---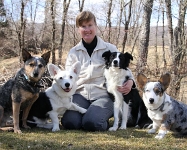 Barbara Miller - began her interest in dog training in 1979 and her association with Tri-State Dog Obedience Club started shortly thereafter. Barbara's first dog, a corgi cross named Ferdinand, completed his Mixed Breed Companion Dog title at a TSDOC match show back in 1986. Since then Barbara and her dogs have earned well over 100 titles in Obedience, Agility, Herding, Tracking, Flyball and Conformation. She has achieved several breed "firsts" including the first AKC agility title on a Basset Hound and the first VCD1 (CD, NA, NAJ, TD) on an American Foxhound. Her Cardigan Welsh Corgis, Australian Cattle Dogs, Foxhound and Basset Hounds have consistently been top ranked Nationally in Obedience, Rally and Agility.
Barbara teaches Agility at Tri-State Dog Obedience Club. She believes that building a strong learning foundation early in a dog's life is crucial to a successful life-long relationship.
---

Cathy Mann - STAR Puppy, AKC Tricks, AKC CGC Class, WCR Rally Class
There has always been a dog, or multiple dogs in Cathy's life. If that was not enough she would bring home every 'stray' and make sure it found it's way back to it's owner. When the new Cocker Spaniel puppy came into her life when she was 12, she taught it tricks and won first prize in her Town Park competition. As an adult, her first dog was Penny, a German Shorthaired Pointer, followed by Nicki a Miniature Schnauzer and then her daughter Bridgette.
In 2010 Cathy started fostering for several Rescue Groups in the NJ/NY area. As of this writing, she and her husband have fostered over 60 puppies, and three found their forever home with Cathy. Zoe (since passed at the age of 14+) already had been adopted when the fostering started, as a way to get Zoe more 'social'. Zoe earned her NACSW NW1 at the age of 13+. Sampson came next (now 7) who has earned titles in WCR Rally, Barn Hunt, CDSP Obedience, ACK Tricks and CPE Agility also had been certified with Pet Partners and routinely visited a Nursing Home. Sampson also has earned his AKC Canine Good Citizen. Samantha (now 6) has earned titles in WCR Rally, CDSP Obedience, UKC NW and CPE Agility. Gideon (now 5, a deaf Aussie mix) has earned titles in WCR Rally, CDSP Obedience, AKC Tricks and UKC NW. Gideon also has earned his AKC Canine Good Citizen. All three dogs have been included in the WCR Rally Annual 'Top 20' Rankings for various Titles. New puppy Morgan (Aussie mix) has joined the family, adopted from a local rescue group. Too young, yet to compete – but training has begun.
In 2013 when the opportunity presented itself to complete an internship under a dog trainer in NJ, Cathy couldn't pass it up. Upon the completion of the 250 hours of one on one training/student teaching/researching and writing she then began to teach Basic 1 manners at the Dog Training School owned by the trainer. As well as Basic 1, Cathy also did private in-home lessons.
Cathy has been teaching at TSDOC since 2015. She is an AKC CGC and AKC Tricks Evaluator and is Certified in Pet CPR and First Aid.
In her spare time, Cathy volunteers as a transport driver for a number of rescue groups and actively competes with her dogs in CPE Agility, WCR Rally, CDSP Obedience, NACSW NW and UKC NW. Cathy's passion is getting puppies off to the 'right start' and feels that the STAR Puppy Class is one of the most rewarding classes to teach. Both new and previous puppy owners will truly benefit from the class.
"Dogs are not our whole life, but they make our lives whole." - Roger Caras
---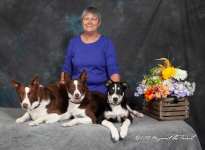 Betty Padgett - Started in dogs around 1969 when she brought her Rough Collie to obedience classes at TSDOC in Matamoras and became hooked. Shortly thereafter she started competing in dog obedience competition and breed conformation with her Shetland Sheepdog. In the 1970's to 1990's she also competed in sled-dog races with a variety of breeds from Siberian/Alaskan Huskies to Labrador Retrievers and Doberman Pinschers.

Over the past many years she has owned, loved and competed with her Siberian Huskies, Shetland Sheepdog, Labrador Retrievers. Doberman Pinschers, Miniature Pinscher, Australian Shepherd and currently, Border Collies.

Her dogs have earned (all owner trained and handled):

Multiple High In Trials in obedience and herding,
2nd Pl 1987 Pennsylvania Sled-dog Championships 3-5 dog class
HIT 1993 Maritime Obedience Invitational in Nova Scotia Canada
4th in the JL Versatility Competition at the 2010 BCSA National Specialty
3rd Pl. Open Class, 2012 AllStar Obedience Championships
VCD2, Utility,C-OTCH & C-UDX
Herding Championships
Breed Conformation Champion
ScentWork Advanced
Agility Excellent
Tracking Dog
Rally Excellent
Trick-Dog Performer
CGCA
and Border Collie, Jake; Doberman Pinscher, Kimber; Labrador, Thumper were excellent pheasant dogs in the field as hunting companions and wonderful hiking companions.
Betty is an AKC-Canine Good Citizen Evaluator. Her classes are flexible for the pet owner who desires to work towards a well-trained canine citizen/companion or competition partner.

---

Rose Robischon - At present Rose is the President of the National Owner Handler Association, Inc. Before moving to this area she was president of the Nassau/Suffolk Chapter of the Owner Handler Association as well as their handling instructor in conformation. She has been President of the Tri-County Collie Breeders Association and trained and shown Collies in breed and obedience to their championships. She is a board member and AKC delegate of the Wallkill Kennel Club. She is also Vice President of the Stewards Club of America.